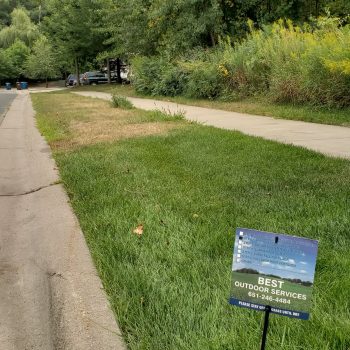 Part of a Healthy lawn is giving it the nutrition and water it needs and keeping those pesky weeds out of it. At Best Outdoor Services we know all about grass and what it needs to stay healthy and green all year long.
Early Spring, we apply a granular fertilizer that has pre-emergent to stop weeds from starting, and a slow release nitrogen to jump start the growing year to get it green and fast. Most pre-emergent have to be applied before the ground temperature reaches a certain temp. Our pre-emergent doesn't, as we opt to use the higher quality that works at any ground temps to stop the weeds from starting to grow.
Late Spring – We apply a liquid fertilizer along with a crabgrass pre & post emergent herbicide. The fertilizer helps green and thicken the lawn, well the herbicide stops and kills any crabgrass.
Early Summer – When that heat starts stressing the grass we help it out by applying a slow release nitrogen and potash fertilizer to help the grass with stand the heat by having the proper nutrients it needs. Also at that time we apply a broad spectrum herbicide to kill any sprouting weeds in the lawn such as those pesky dandelions.
Mid-Summer – During the highest heat in Minnesota we apply a slow release granular fertilizer to help strengthen the root structure of your grass for those harsh summer days. It includes micro nutrients slow release nitrogen and potash. This helps the roots dive deep for the water it needs and keep your lawn green!
Early Fall – To keep that grass green through fall we apply a liquid application that has more nutrients your grass needs that included nitrogen, potash, and other micro nutrients. Also at this time we apply with the nutrients a broad leaf herbicide to kill any weeds as we don't want to see those weeds in the spring. By Killing them now we ensure that they don't come back in the spring.
Late Fall – Now in Fall the temperatures are lower and we are preparing your lawn for the remaining of the season and next year by applying a long lasting slow release fertilizer. This helps give all the nutrients for the grass need before going into hibernation and help with making sure your soil and grass has the nutrients needed in the spring when the snow is melting and the grass is coming out of hibernation.